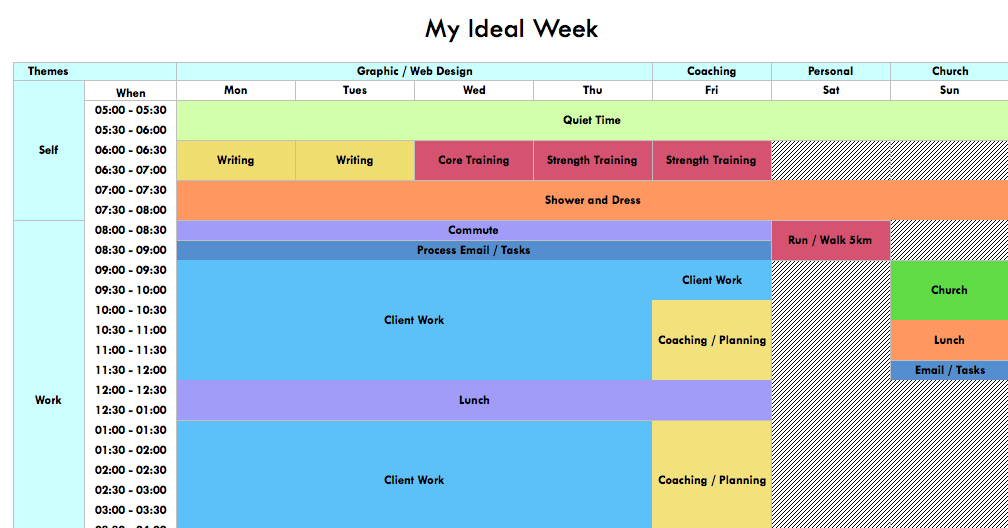 This is a concept that I learned from
Michael Hyatt's blog
about a year ago. Because habits take time to create, I have to mention that I haven't quite conquered this, however, I will keep pushing to form good habits and grow myself.
So what do I mean when I say "Ideal Week"?
Exactly what it says! Your Ideal week is what you envision to be the week in which you are disciplined and live out your optimal self. It is the week you will live life to the fullest! Remember, it needs to be actionable and realistic. You can adjust it as you go, so that the end result will be do-able and not too idealistic. Doesn't that sound great!
Michael Hyatt illustrates the ideal week perfectly when he suggests:
The ideal week is similar to your financial budget. The only difference is that you plan how you will spend your time rather than your money. And like a financial budget, you spend it on paper first.
Getting Started:
First off, I made a list of all the things I normally do during a week like going to church, going to gym, work, checking email, planning the next day, etc.
Secondly, I used a simple spreadsheet that shows each week day with 30 min time slots. You can take a plain piece of paper or use the template to plan it.
Thirdly, I entered all the things on my list into the different time slots to plan when I can do each activity.
Finally I make mid-course changes in order to fine tune it where needed.
Themes and Focus Areas
The image above is a glimpse into my ideal week. You'll notice my daily themes listed on the top row above the day of the week. Then, I divided each day into specific areas of focus which are listed in the left column.
Here are my themes:
Monday-Thursday is devoted to my Graphic and Web Design work – meetings with clients, working on projects and delegating some of the work. I might change this in future where I will have meetings on certain days etc.
Friday is primarily spent on planning and coaching clients. Fridays include reviewing my business vision and business plan, creating workshop and coaching material, and finally coaching in the afternoons. This is where I use StrengthsFinder as foundation to Life Coaching.
Saturday is for relaxation, creative activities and  personal chores.
Sunday is for church, rest, and planning and preparation for the coming week.
My areas of focus include:
My mornings are for personal and spiritual growth – praying, working out, writing and reading.
The biggest part of the day is devoted to work.
My evenings are set aside for family, friends, reading, working out. We discuss our days – the good and the bad and also what's planned for the next day.
Having this arms you with perspective on your life (like how much time you really spend with family and at work etc.) – in turn, this allows you to make the necessary adjustments in order to match your life vision. This Ideal Week plan will affect your life positively in the long run because your day to day life will begin to align with your values and you will be able to prioritise better.
Now it's your turn – map out your own Ideal Week. Feel free to download my Excel spreadsheet or create your own.
Question: What other ways do you use to plan your week more effectively? Share your ideas in the comments.